We use cookies to improve your experience on our website. By browsing this website, you agree to our use of cookies.
What is Cellvizio?
Cellvizio is a type of Confocal Laser Endomicroscopy system that allows real-time in vivo cellular imaging.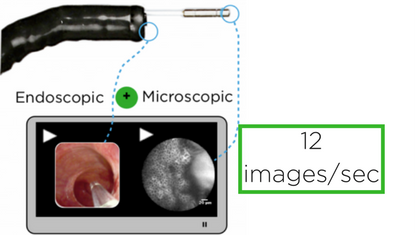 Probe and Needle-based Confocal Laser Endomicroscopy
Compatible with any state-of-the-art endoscope and therapeutic procedures during endoscopy
Cellvizio technology
Cellvizio technology Cellvizio lets you see precisely what's occurring in the human body, at the cellular level in real time. It helps to know precisely where to target biopsies, examine cells from inside a nodule, discover previously undetected lesions or see the immediate impact of a drug on cells.
It is visibility on a micro level, with macro potential to transform patient management and care.
Cellvizio can be used globally across a wide range of medical specialties, including gastroenterology, pulmonology, urology, and drug development, Cellvizio is transforming the way physicians diagnose and treat patients.

A complete endomicroscopy platform
Cellvizio offers a choice of Confocal Miniprobes that were designed to answer the specific needs of each endoscopy field:
GastroFlex for Esophagogastroduodenoscopy (EGD)
CholangioFlex for Confocal Cholangioscopy in ERCP
ColoFlex for Colonoscopy
AlveoFlex for Bronchoscopy and Alveoscopy
AQ-Flex 19 for EUS-FNA or T(B)NA procedures

High-quality training opportunities
Mauna Kea Technologies organizes frequent pCLE learning workshops at centers near you.
Strong community of users
A strong community of users dedicated to the adoption of pCLE that share insights through DocMatter, which is an established and fully supported online peer-to-peer clinician community for case sharing and quality clinical dialogue. Through DocMatter, clinicians can learn from one another and exchange best practices of Cellvizio.
How does it work?

Step 1 : During an endoscopic procedure an area of interest is identified. Cellvizio miniprobe is inserted into the operating channel of a standard endoscope
Step 2 : The miniprobe appears on the endoscopic image and is positioned in contact with the tissue
Step 3 : Simple contact between the tip of the miniprobe and the tissue generates real-time microscopic cellular images viewed directed on the Cellvizio screen. Unlike traditional endoscopy, Cellvizio® miniprobes provide deep observation of the mucosa, up to 150 µm, which is the preferred layer for cancerous tumors.
Dr. Helga Bertani, Nuovo Ospedale Civile S. Agostino - Estense, Modena, Italy and Dr. Michel Kahaleh, Weill Cornell Medical College, New York, USA, performing a probe-based confocal laser endomicroscopy (pCLE) procedure with CellvizioⓇ